Searchlight And Anti-Aircraft Batteries

In the early months of the war searchlights provided the most effective means of identifying aircraft at night in such a way that RAF fighters could intercept them or Ack Ack see them to shoot them down.

East Lothian saw combined units of searchlights and anti-aircraft guns set up at Keith, near Humbie; Whitburgh, near Pathhead; and Frostineb, near Fala. Other searchlight positions were near Gifford, Haddington, Dirleton, Whitekirk, East Linton, Whittinghame and Garvald.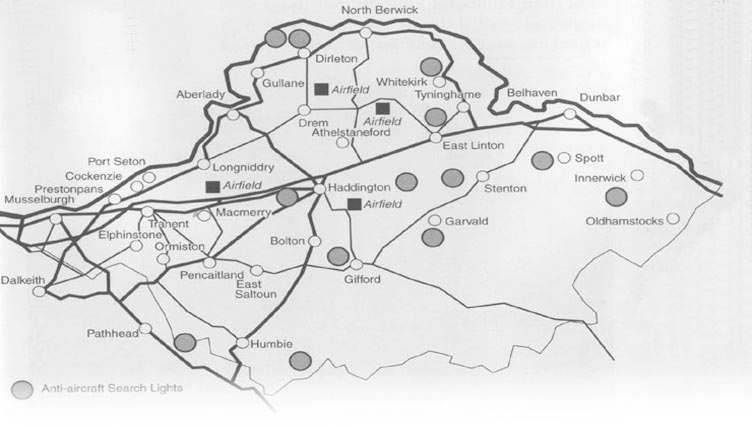 Searchlight locations around East Lothian.
Searchlight Companies

The 4/5th Battalion, The Queen's Edinburgh Royal Scots, manned these defences, having become a Searchlight Regiment in 1938. Such passive work wasn't much to the liking of the soldiers involved since the Royal Scots had long been riflemen and its members viewed manning searchlights as a distinct second best. The 405th Searchlight Company manned sites in East Lothian, with the Company Headquarters at Clerkington House, near Haddington. The 405th was commanded by Major JB Allan and spent July 1939 in camp at Crossgates in Fife where it underwent long periods of training. When mobilization was ordered on 1st September, the units deployed to their war stations.

On 28 October 1939 members of the 405th stationed near Humbie were on hand to take prisoner the airmen from the Heinkel He 111, which crashed nearby. 407th Searchlight Company covered positions in the Musselburgh area and also Midlothian.

On 1st August 1940 the Territorials became a regular army regiment, the 52nd Searchlight Regiment, Royal Artillery, but still retained the existing sub-title. In addition, for example, 405 Company became 405 Battery.

The work was difficult, especially during the long winter nights, when the soldiers, isolated in lonely places, had to endure long hours of watching and waiting. Starting a cold generator (to power the searchlight) was no easy task in sub-zero temperatures.


1940

The searchlights were in occasional use throughout 1940 illuminating aircraft in the Forth area and often in poor visibility. One of the busiest nights was that of 13/14 March 1941. The searchlight units in East Lothian picked up German bombers as they headed towards Clydeside and the searchlight at Pathhead successfully illuminated no less than thirteen aircraft. One can easily imagine their operatives' frustration when the anti-aircraft battery failed to down any of them. However, on another occasion, after two German aircraft had been successfully intercepted and downed, the C.O. at Drem wrote a letter of thanks to those who had lit up the targets and had thus made interception possible.


1941

In early 1941 searchlight clusters were created, three searchlights replacing the existing single ones. This was felt to be much more effective means of locating an aircraft and holding on to it as it flung itself around the sky to evade the deadly lights. One special six-light site was set up in a field on the north side of Dirleton, a site known locally as 'Elsie'. So prominent was this site that it received the attention of several attacks and was bombed and strafed on a number of occasions. No casualties were sustained but one unfortunate gunner was killed when he strayed onto a minefield in Archerfield.

In August 1941 orders were received for 405 Battery to proceed overseas. 200 soldiers were selected and they left Haddington on 11th October for the mobilisation centre in Southend.


1942-1945

As the war progressed fewer and fewer German aircraft flew over East Lothian and the work of the searchlight and Ack-Ack batteries eased. Despite this, East Lothian's searchlights and anti-aircraft batteries played an important part in the destruction of several enemy aircraft during the war.