Petty Officer Ernie Nichols,
Royal Navy, May 1939 - September 1947

[Interviewed by David Haire on 17th June 2013. Ernie died on March 1st 2016.]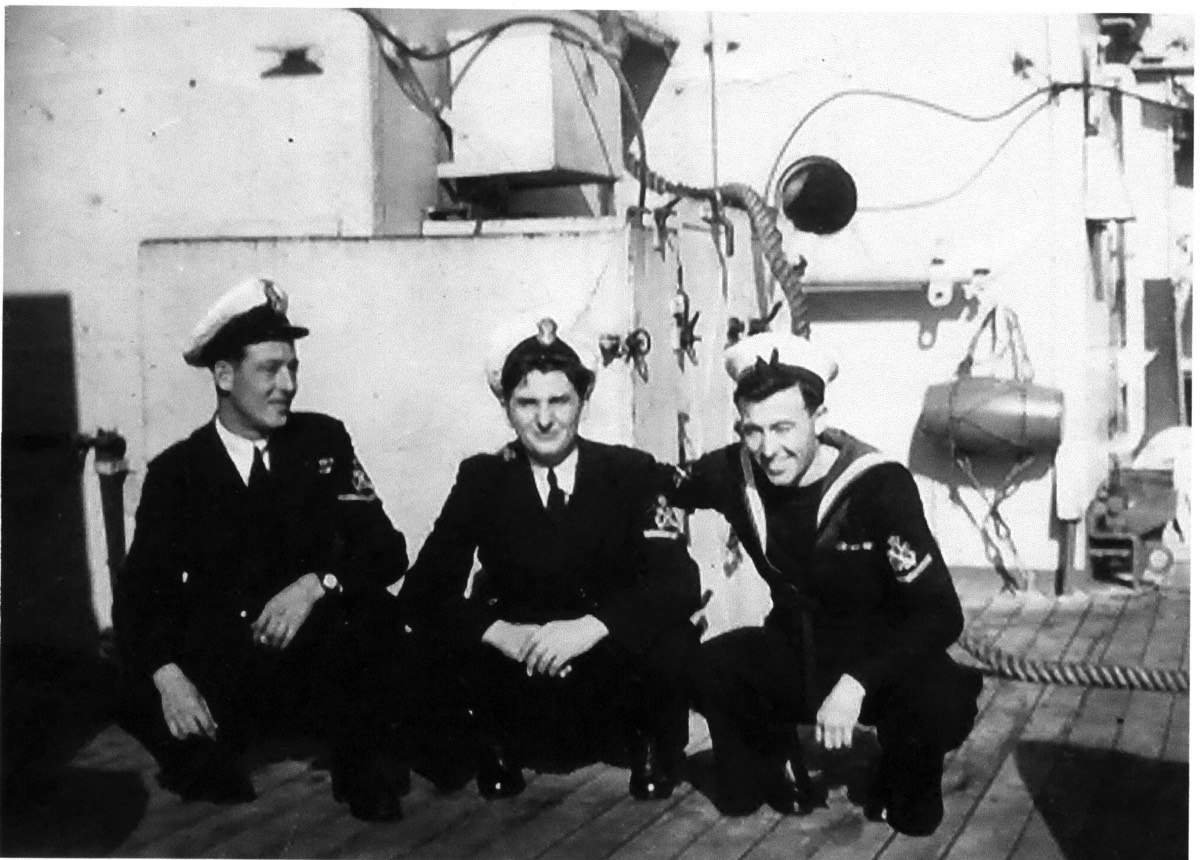 Ernest Nichols (on the left) on board HMS Truelove.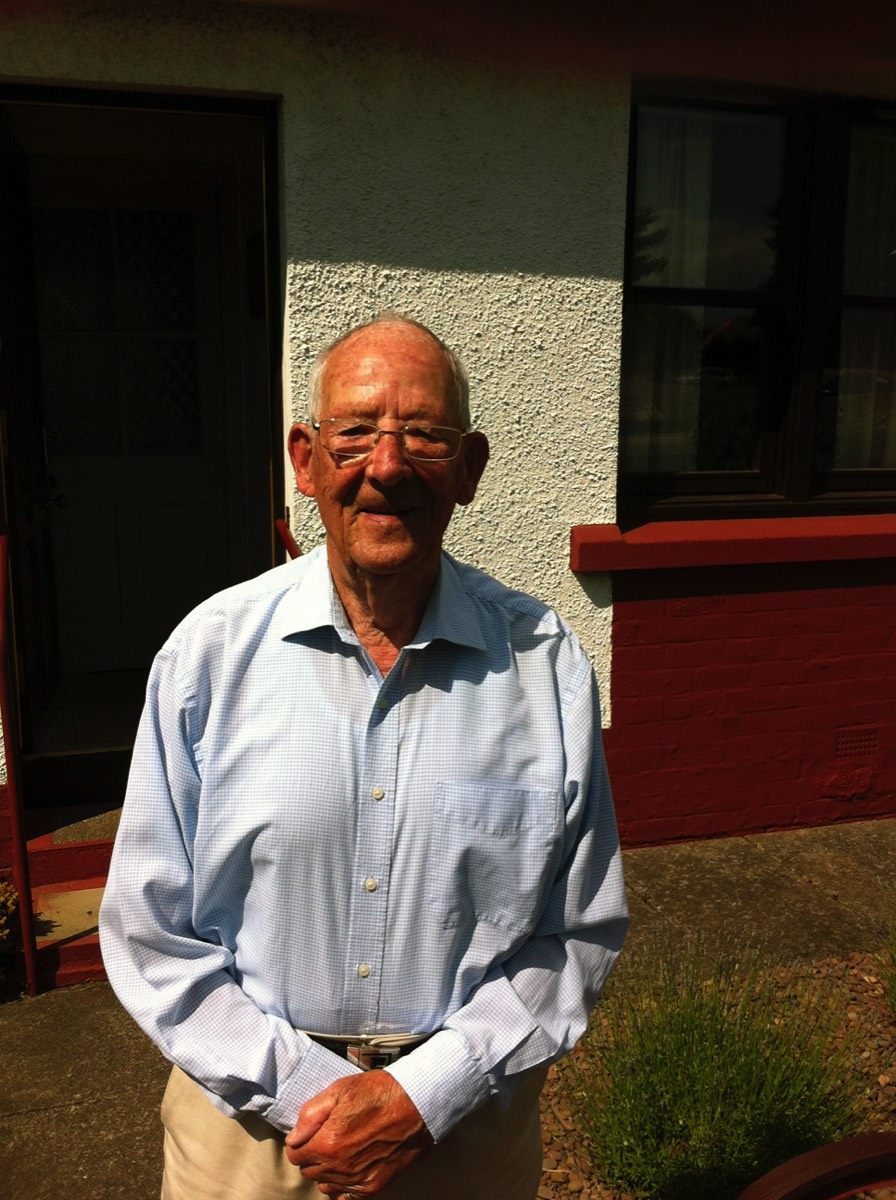 Ernest in Macmerry, 2013.
I was born in 1922 in Ipswich, Suffolk, and started primary school when aged five in 1927. My mate and I used to walk about five miles to a fairground where I'd search near the stalls for pennies on the ground. We received a halfpenny a week as pocket money. On one occasion there I spotted a sailor boy with HMS Ganges emblazoned on his cap. This was a shore-based boys' training establishment at Shotley, near Ipswich in Suffolk. At that time the minimum recruiting age was fifteen and a half. I admired his rig-out, blue collar, three white lines around the edging, bell bottom trousers and a girl on each arm. There and then I decided that was the life for me!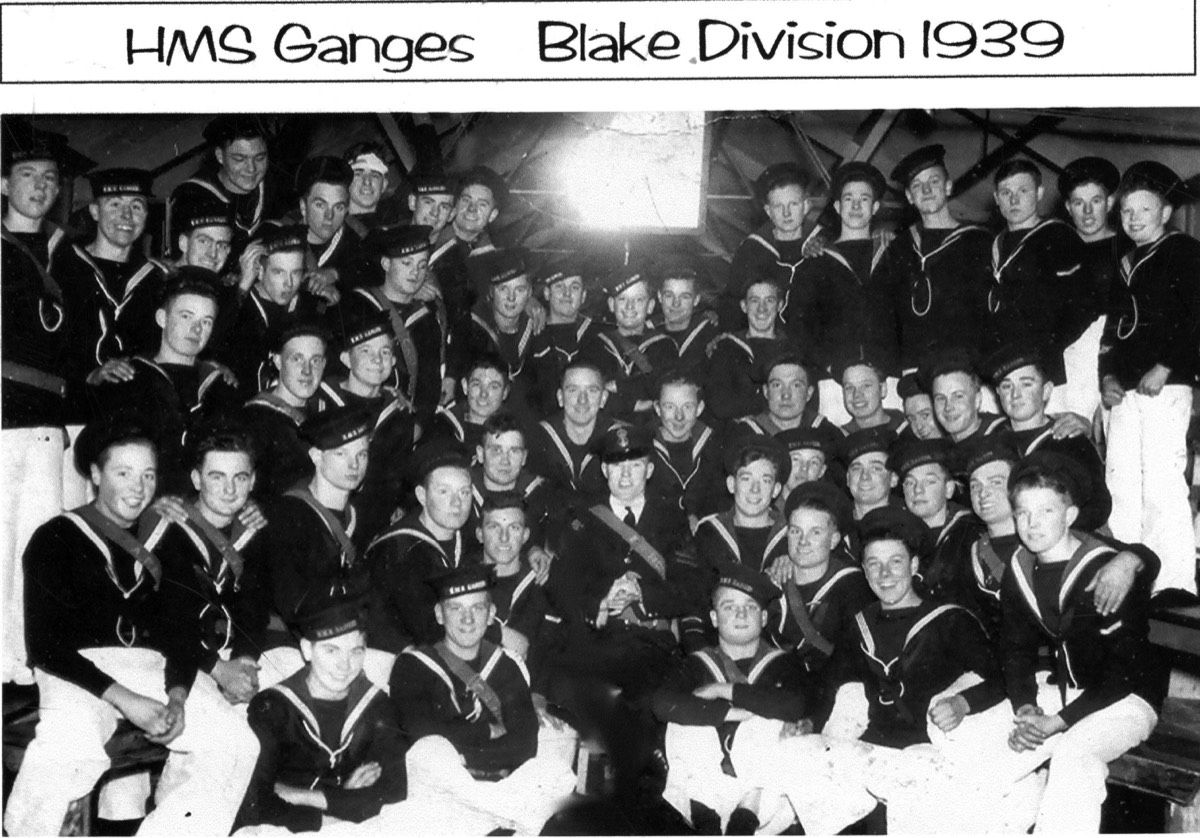 Join the navy and see the world – my wish was to be granted, but I had no idea at the outcome of the terrible price which would have to be paid. In May 1939, aged sixteen and a half, I joined the boys at Ganges and there I remained for a period of ten months for training in gunnery and seamanship. On completion in February 1940 I was drafted to HMS Pembroke, a naval barracks in Chatham in Kent, as a 1st Class Seaman to await posting orders. On 6th March I was on my way by troop train to Gourock on the Clyde, further destination unknown. Everything was hush hush in those days. With others I boarded a lighter and at the tail of the bank was a large grey coloured ship. It was only when we were aboard that we realised it was the battleship, HMS Warspite, nicknamed throughout the Service as "The Grand Old Lady" and well it might be being my home for three years. War complement was about 1,300 and it was about 200 yards long. It was like living in a village. She should have been preserved like the Belfast, she was a wonderful ship, all the way from Jutland.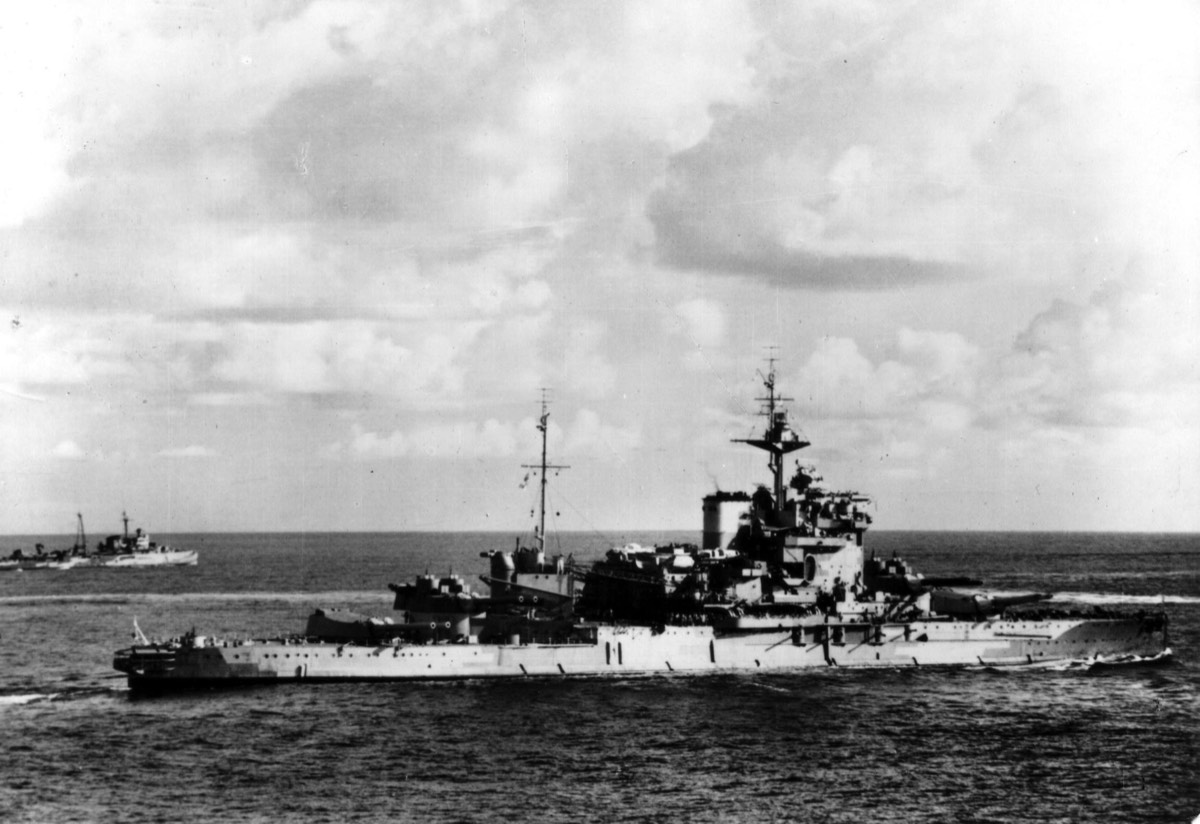 Second Battle of Narvik

My first experience in hostile waters came on the 13th April 1940, the Second battle of Narvik, when I was deployed on communications from B Turret in one of the twin 15" guns. I will never forget us with destroyers quietly creeping up the stillness of the fjord enveloped with high snow-clad hills on either side to encounter enemy shipping. I never saw anything of the battle since I was in the dark inside B Turret. That was quite frustrating. We could fire the one-ton shells 32,000 yards (about sixteen sea miles) from the barrel which weighed 100 tons. Outcome of the battle: eight German destroyers sunk and U46 which was sunk by the Swordfish launched by catapult from Warspite. Our loss, two of our destroyers, HMS Cossack and HMS Eskimo badly damaged. We entered the fjord again on the 24th April to bombard installations and the port of Narvik.

To The Med, Convoys To Malta And Then To America

On the 27th we sailed from Scapa Flow in the Orkneys to the Clyde where we took on board ammunition and stores to leave three days later for the Med to join the fleet as flagship. We then underwent repairs to the jackets around the base of the guns and to the superstructure caused by blast damage from our guns at Narvik.

We were actually the first war damaged ship to be repaired at Alexandra dockyard, Egypt, since the start of the war. On 11th June Italy declared war and the following day the fleet left port to sweep the central Mediterranean. On the 22nd June came the fall of France and our operation in the Med saw us once again in action with the Italian fleet at the battles of Matapan and Calabria. We also carried out escort duties for convoys to the island of Malta. On the 22nd May 1941 we were damaged by what was thought to be a 550 lb bomb during one of the many air attacks. We thought folk would be born with eyes at the top of their heads: you were ceaselessly looking up for aircraft. We were constantly bombed.

I was closed up at action stations in B Turret when a bomb hit. Well to be quite honest there was a .5" machine gun on the top of B Turret and it jammed and me an another guy said 'Right Ronnie, there's nothing we can do. Down below'. So we went into the turret. After the burial service for our shipmates we steamed back to Alexandria with our wounded and then, after temporary seaworthy repairs, we sailed for the west coast of the USA calling at various ports for stores, etc., and arriving at Pearl Harbour, Honolulu, on the 2nd August 1941. We then set sail to Bremerton naval yard, Seattle, Washington arriving on the 11th August.

To The Far East: Meeting His Brother In Malta

On 7th January 1942 we sailed from the hospitable shores of America after undergoing extensive repairs and sea trials and we headed for a Far East consignment. A most emotional time for me while I was a Boy Seaman on Warspite was when we were moored in the Grand Harbour, Malta. I was piped for, 'Boy Seaman Nichols report to Quarter deck'. Up I go and who was there at the bottom of the gangway, but my brother and I hadn't seen him for three and a half years. He was in the Queen's Own Royal West Kents and was in the army stationed in Malta and he got the buzz that the Warspite was in. That was something, that was something! But he wasn't allowed aboard. He was at the bottom of the gangway in a felucca or something and we just communicated by shouting. My happiest days were on the Warspite. Eventually I was posted back to the UK via HMS Royal Sovereign, a troop ship, arriving at Chatham barracks in time for Christmas 1942 after about three years and a half away. That's a long time!

HMS Essington And Back To America: Thence To Belfast And Atlantic Convoy Duty

I wasn't long back and after passing for Leading Seaman I was posted to HMS Essington, a Lease Lend American destroyer escort which was berthed at Charleston Naval Yard in Boston Massachusetts. On commissioning it, it was reclassified as a Captain class Frigate. After storing ship, etc., and sea trials we sailed for Pollack dockyard, Belfast, arriving on the 26th September 1943 and joining another three craft to become the 3rd Escort group for Atlantic U boat patrol and convoy duties to ships from Canada and the USA to the UK.

D-Day, HMS Truelove And Minesweeping

I also saw action offshore from Cherbourg on D Day. September 1944 saw me back at Chatham and after passing for Seaman Petty Officer I was once again awaiting draft. 11th December I was merrily on my way back to the Mediterranean to join HMS Truelove, a fleet minesweeper of the 5th Minesweeping Group, berthed at dear old Alexandria. I was placed Second in charge of the minesweeping party on board, a two ringer being the Gaffer. Our task was to clear sea mines from the ship lanes in the Adriatic and the Aegean. Once we had taken up position and sweep wires were out, my other job, armed with a 303 short Lee Enfield and armour piercing bullets, was to pop off floating mines swept by the ship ahead. If a bullet pierced the horn, it would explode. If it punctured the shell it would fill with water and sink out of harm's way.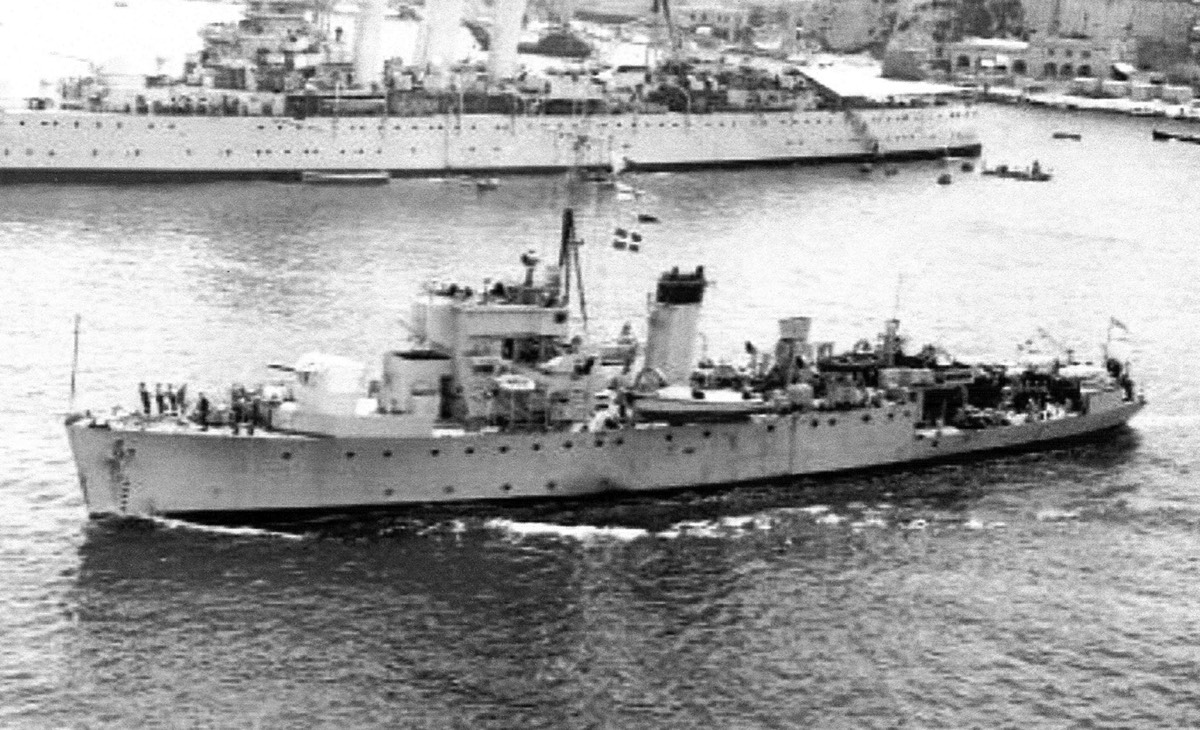 VE & VJ Days in the Med

On VE Day we were berthed at Alexandria. I and others were taken by destroyer to Taormena in Sicily for seven days to recuperate. On VJ Day we were anchored at Ancona, east coast of Italy, where, navy style we spliced the Mainbrace with many more. New Year's Day, 1946, saw us somewhere in the Atlantic heading for Philadelphia, Pennsylvania, to hand back Truelove and another ship. We, the crew, then train travelled to a naval establishment at Stattacona, Halifax, Nova Scotia, to await transport to the UK arriving at Chatham barracks on the 7th December 1946.

HMS Spanker, Port Edgar

April 1947 saw me drafted to another mine sweeper, HMS Spanker, berthed at Port Edgar, South Queensferry. On a run ashore I met Margaret, the apple of my eye, at the Town Hall, South Queensferry, where they held dances. We won the spot waltz and I the singing contest. We were married at Dalmeny Parish Church on the 13th September 1947, a happy partnership lasting fifty-four years.

I remained in the Royal Navy till the 27th September 1947 and then went on Class A reserve and settled down to Civvy Street. In 1951 I joined the Admiralty Constabulary, later to become the Ministry of Defence Police, in which I served for thirty-one years, finishing up as one of the first Coxswain of a Ministry of Defence Police Launch in the northern area which included Northern Ireland and all of Scotland. Saltwater in still in my blood. On the 19th November 1982, at the age of sixty I retired from the force, my travels ending in Macmerry, East Lothian.