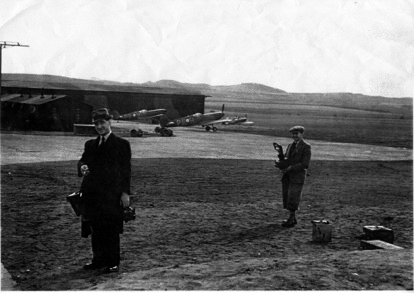 Drem Airfield: journalists await a VIP.
Q Sites

As far as the Luftwaffe was concerned, the two operational airfields (Macmerry and Drem) and the training airfield at East Fortune were high on the list of military targets East Lothian had to offer. That this would be so, that airfields would be targeted from the start of hostilities, had long been anticipated by planners in the RAF and measures were taken to decoy German bombers into harmlessly attacking surrogate 'airfields' rather than the real thing.

Two types of decoy airfield were created: K Sites which mimicked airfields in daylight and Q Sites which did the same at night. No K Sites were built in East Lothian but two Q Sites were. Both were built to bemuse bombers attempting to attack Drem: the first, built above Whitekirk and running west to east in the same direction as the runways at Drem; the second at Halls Farm to the south east nestling on the old Herring Road and the edge of the Lammermuirs.

A Q Site was a lit copy of an airfield's lighting system. Quite early on in the war a revolutionary lighting system had been developed at Drem by Wing Commander Richard Atcherley, when he discovered the great difficulty Hurricane and Spitfire pilots had when coming in to land at night. The flare from the exhausts made it very difficult to see ahead. His system, named the 'Drem system' was employed on eighty bomber and twenty fighter stations by the end of 1941. The diagram below illustrates the Drem lighting system which was re-created at Halls Farm.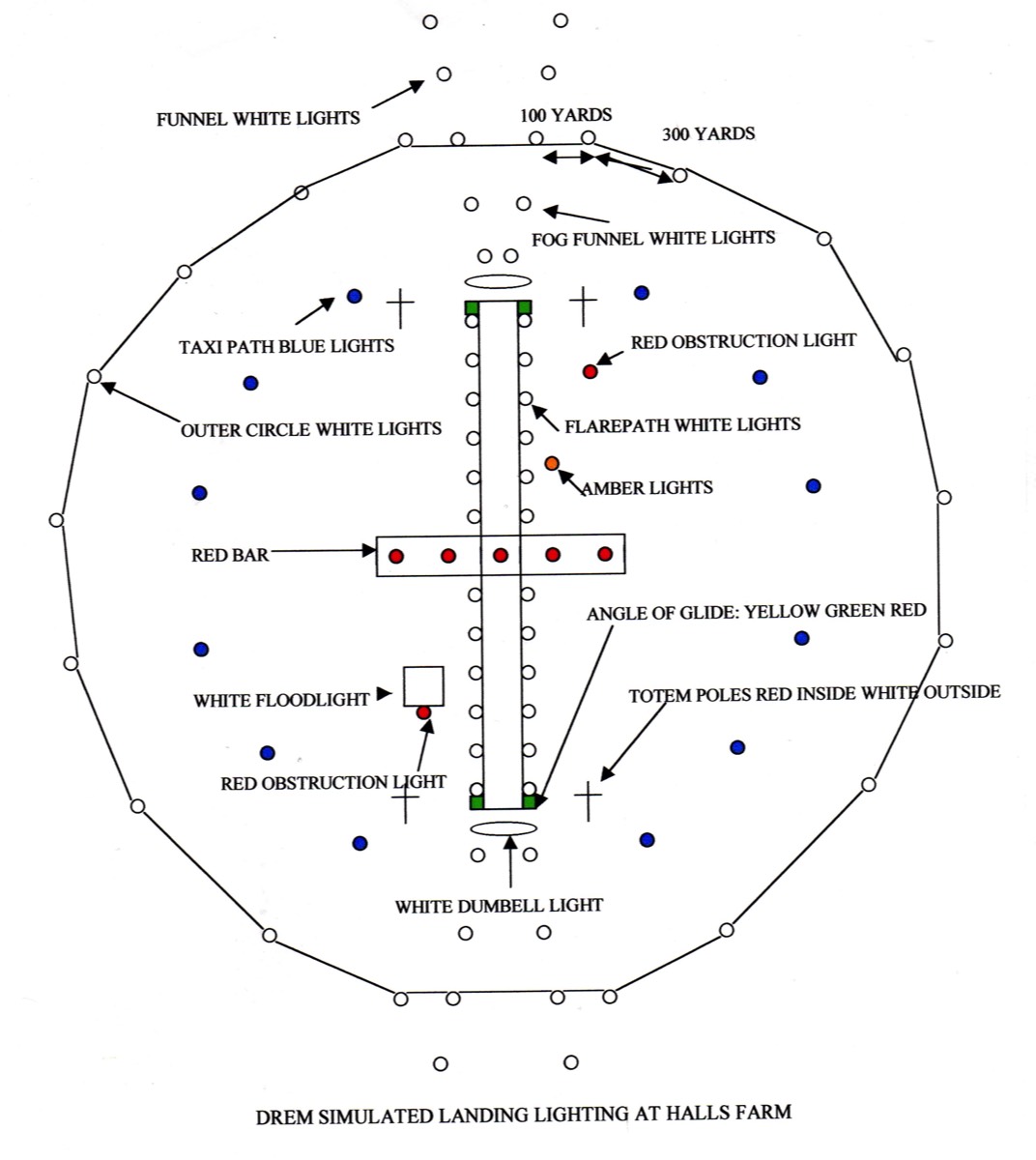 Drem Lighting System: Halls Farm Q Site.
Whitekirk Q Site
In 1940 a Q Site was established to the north of Whitekirk. Essentially, it ran from Pefferside in the east to Redside in the west and it proved quite successful. It success can be judged by the number of bombs it diverted away from Drem and the equal number of complaints it engendered as a result! The Q Site successfully attracted the following:
At 22.35 hrs on 13th July 1940; two H.E. bombs dropped in a field at Redside Farm, Whitekirk. No damage.
At 01.00 hrs on 27th July, 1940, four H.E. bombs dropped in a hayfield at Stonelaws, behind Pleasants Hill, Whitekirk.
At 01.00 hrs on 4th August, 1940, one H.E. bomb on Seacliff Gardens, Whitekirk.
Tom Porteous, in his book "Living from the land" describes a raid as follows: "...the Q Site [was] set up where the Whitekirk golf course has now been made. This was meant to deflect raids from RAF Drem. Two bombs fell at Newbyth, breaking windows in the stables, with Janet and the youngsters, Peter and Margaret, huddled under the kitchen table at East Lodge. Others fell in Binning Wood and over towards East Fortune. The authorities later moved the decoy further away from habitation to an area above Innerwick." [Beryl Robinson, Gullane and Dirleton Historical Society, 1999]
It is even possible that the eight H.E. bombs dropped at Stonelaws, Waughton and Newbyth Mains on the evening of 2nd October, 1941, were aimed at Whitekirk Q Site.
Halls Farm Q Site
It was realised that the Whitekirk Q Site was placed too close to Whitekirk for safety and it was moved to a more isolated spot near Chesters Fort and the foothills of the Lammermuirs. This Q Site was established on Halls Farm and it too was quite successful in its role. The operations and generator room (which doubled as a bomb shelter) was built underground and, surprisingly, completed before the farmer, Mr Thomas Shepherd, was aware of the work. Given its proximity to the Black Loch, this Q Site was also known by that name.
Halls (or Black Loch) Q Site was equally adept at attracting bombs, despite being much further away from Drem than Whitekirk had been. It or its environs were bombed at least three times:
On 25th August, 1940 when seven H.E. bombs fell on a field belonging to nearby Brunt Farm.
On the same morning in 1940 when ten H.E. bombs fell on a field belonging to Woodhall Farm, near Innerwick.
On 2nd September, 1941, when two bombs were dropped, one in a field a mile east of Halls and the other, half a mile south of Black Loch.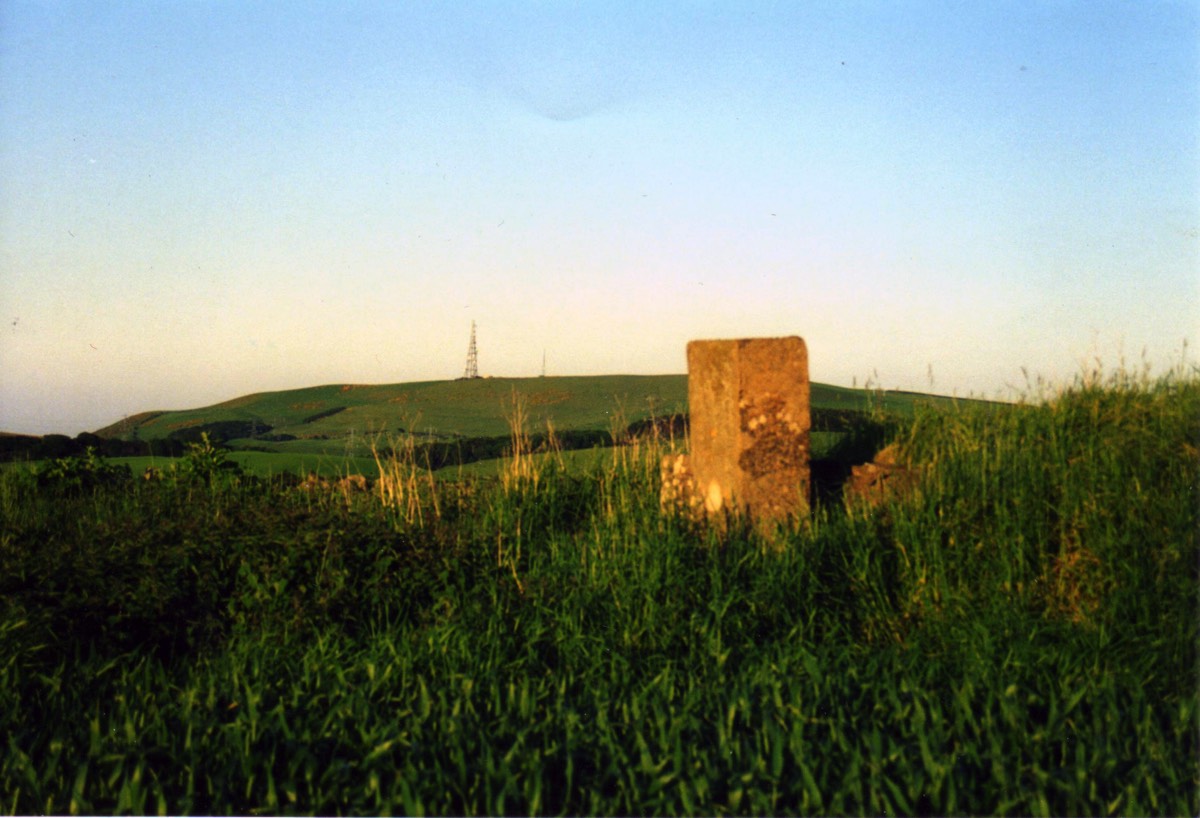 Surface remains of Halls Farm Q Site with Brunt Hill in the background.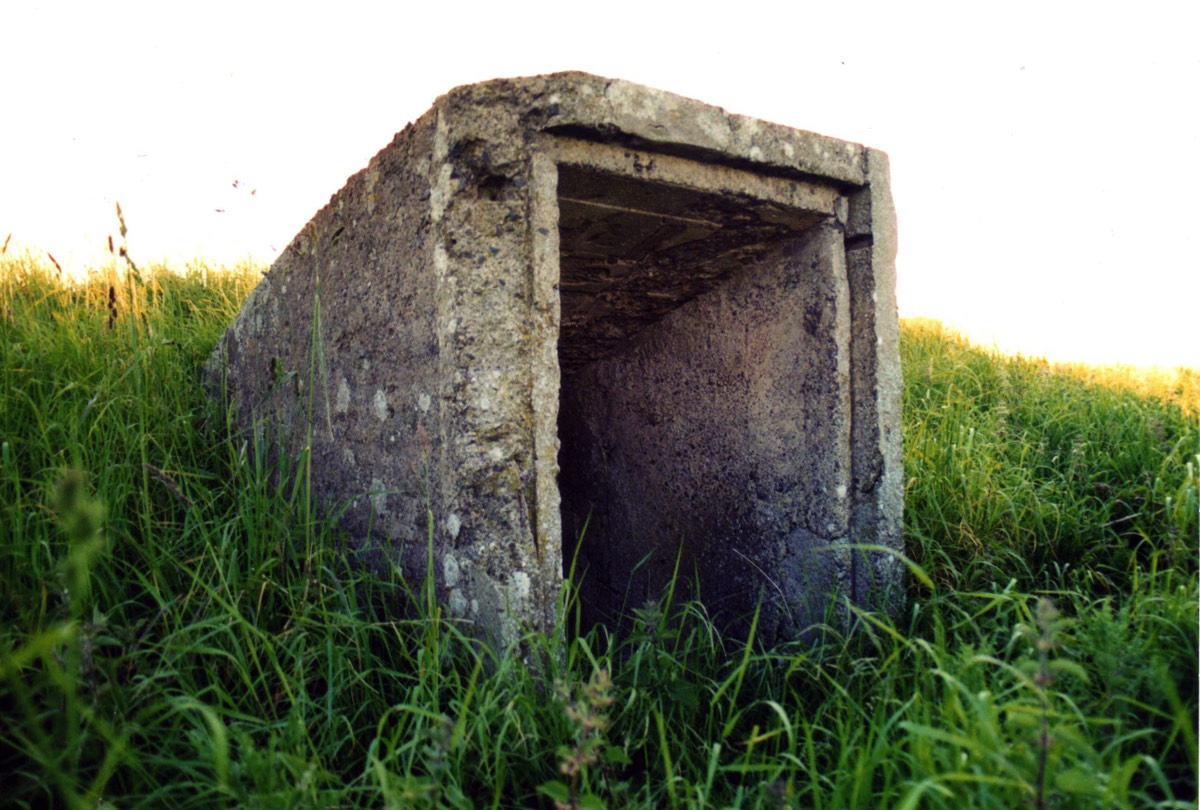 Entrance to Halls Farm Q Site underground operations shelter.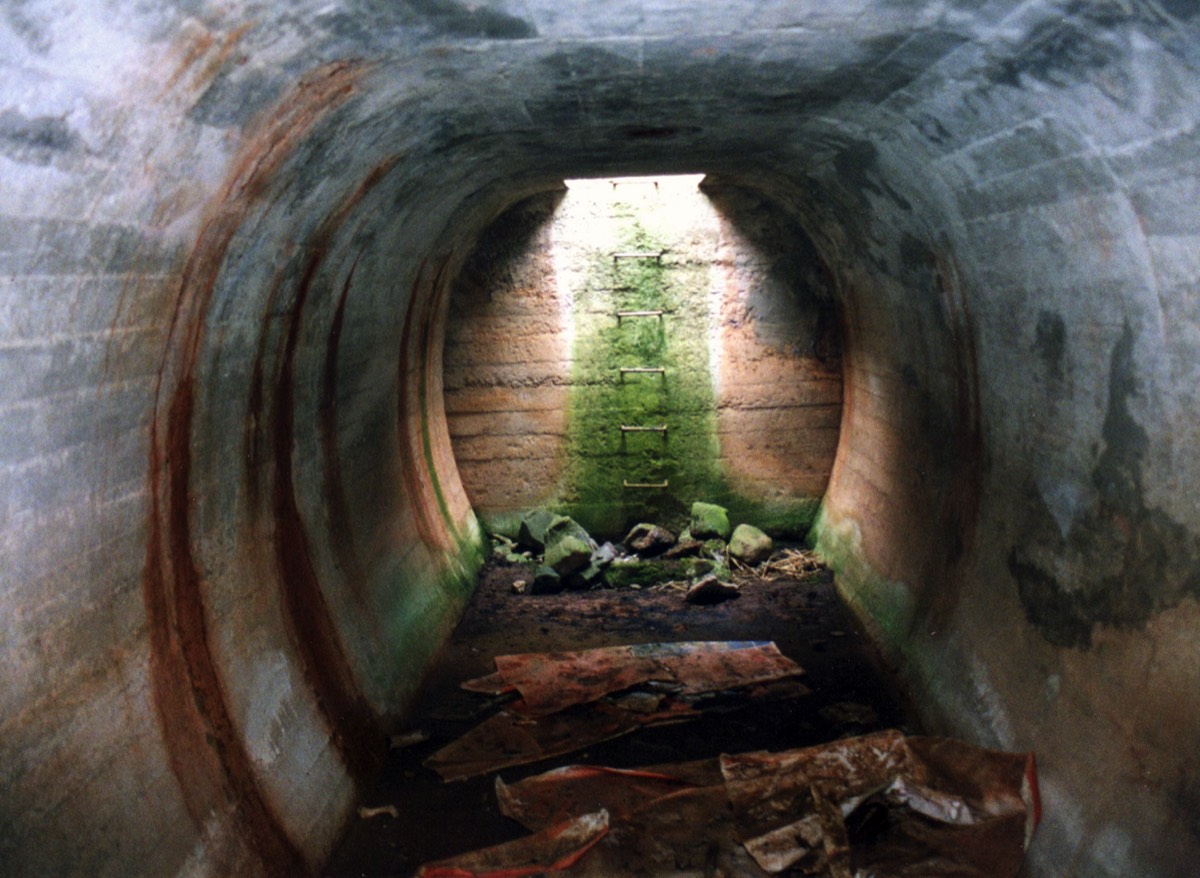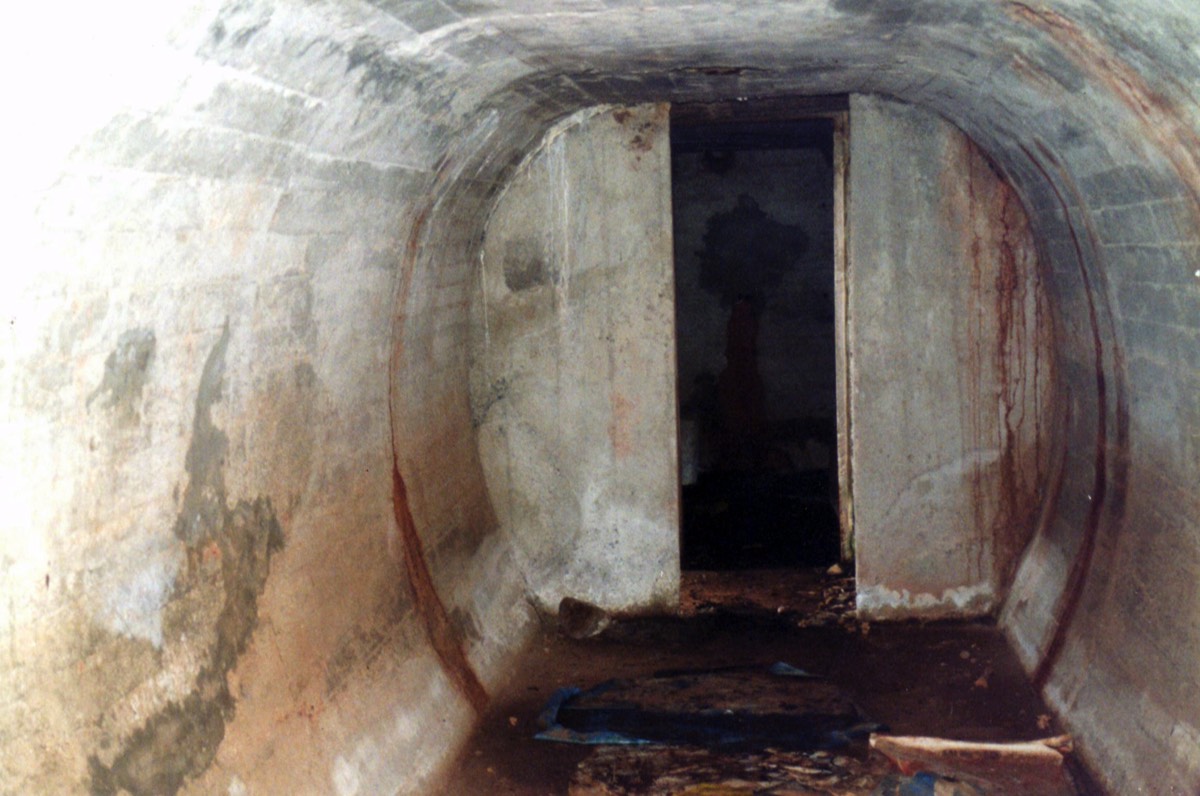 The interior of the operations room/bomb shelter at Halls Farm Q Site.The small annex contained the generator used to power the lights.
Another Q Site?
It is possible that another Q Site was contemplated but never created. There is the suggestion that a site was planned for Spittal, about two and a half miles from Haddington. However, information is sketchy and given that Haddington lay rather close, it seems unlikely that it was ever constructed.
Q Sites: Successful?
One would have to say that the two Q Sites in East Lothian both drew the attention of the Luftwaffe and were bombed. To that extent they were a success. Drem was not to escape entirely, however, and it was targeted at least three times:
1st November, 1940: four H.E. bombs dropped on Fentonbarns Farm with Drem the likely target.
6th May, 1941: three H.E. bombs dropped between West Fenton and Gullane, near the west end of Drem aerodrome.
12th august, 1942: four H.E. bombs dropped within the airfield which caused slight damage to farm property.