Haddington's Wartime Fire Brigade

The peacetime fire brigade in Haddington, as in other towns and villages around the county, was supported during the war years by the Auxiliary Fire Service. Both groups were directly in the firing line on the occasion of attacks such as Haddington's bombing in 1941, a fact sometimes overlooked by subsequent generations more focussed upon the military's experiences.

The official report into Haddington's bombing and the lessons to be learnt from it had this to say about one member of Haddington's Regular Fire Brigade, Second Officer Roy Hutchinson, Iain Hutchinson's father:

"The actions of Second Officer Roy Hutchinson of the Haddington Regular Fire Brigade is to be commended. Hutchinson was engaged in and indeed in the initial stages was in charge of fire fighting operations at the property in Market Street. Although he knew that the property in which his own house is situated had been struck by an H.E. bomb and although he had no knowledge of the whereabouts and safety of his wife, family and relatives, he continued to carry out his duties and performed these unflinchingly until the fire was extinguished."

The men below and a unit from Tranent were heavily involved in fighting the fires started by the Heinkel's bombs. Tranent sent a fire engine and two trailer pumps to the town which took a mere eleven minutes to reach Haddington from the moment of the request for assistance to its arrival.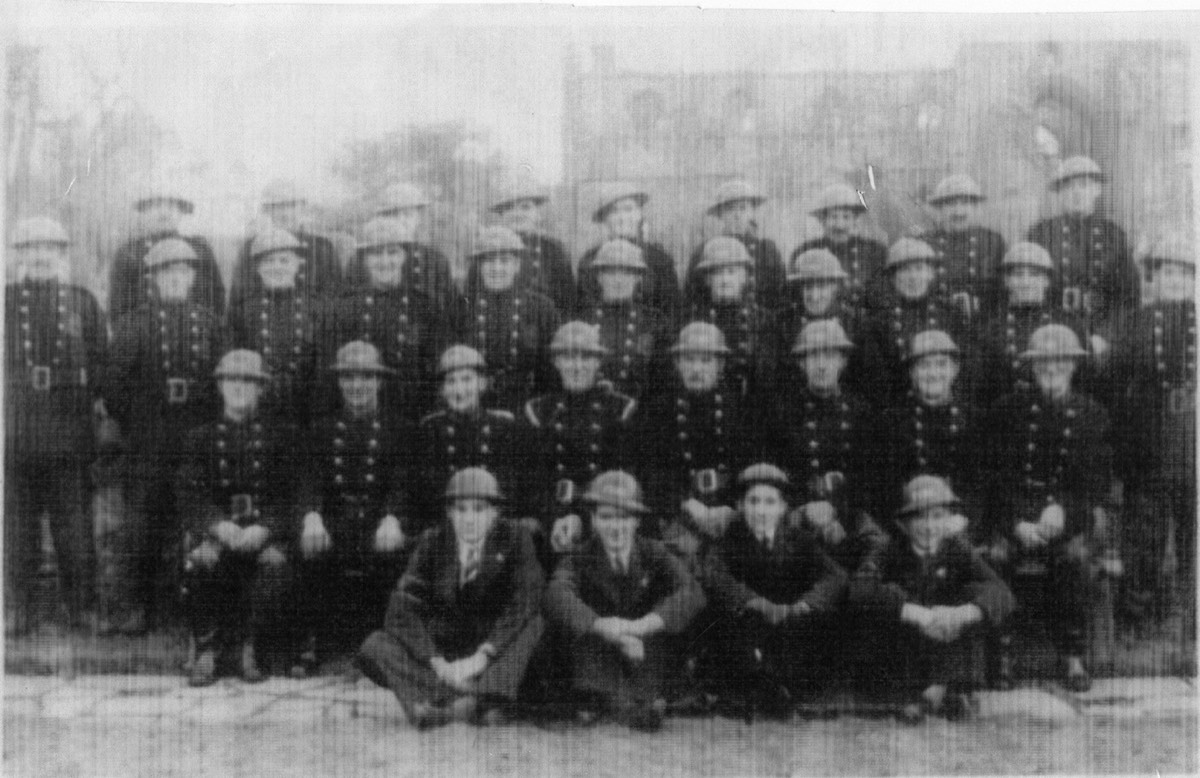 Haddington's Wartime Fire Brigade including:
G. Pringle, J. Morton, R. Hutchinson, L. Hogg, J. Johnston, J. Blackie and J. Munro.
Haddington's Air Raid Precaution Wardens

Supporting the Fire Services were organisations like the ARP. As can be seen from the photograph below, this organisation contained both men and women and theirs was a job which required patience and a strong constitution to survive the long, often cold and usually boring hours on night duty. A turn at night duty was, of course, merely a prelude to carrying on with the day job afterwards.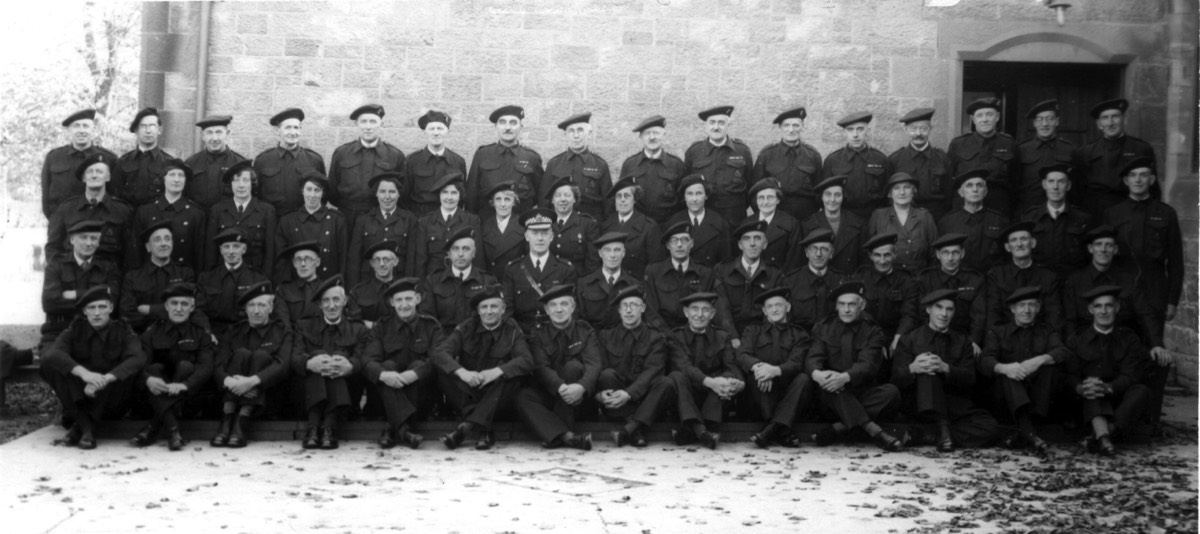 The above group included:

Back Row
H. Yorkston, G. Palmer, J. Murray, Jock Rennie, A. Tait, Jock Scott, W. Thomson, F. Powell, J. Hendrie, A. Ramsay, J. Apps, S. Coghill, W. Spark, Bert Cockburn, D. Young

2nd Row
Jock Wilson, Jean Kerr, M. Henderson, C. Barrie, M. Sherridan, M. Menzies, M. Irving, Miss Robertson, Mrs Dudgeon, Daisy Murray, R. Fortune, N. Drysdale, Mrs Young, Dan Baillie, J. Hay, ?

3rd Row
J. Young, W. Skinner, E. Sheerin, J. Hardcastle, J. McCartney, S. Dudgeon, Insp. Birrell, A. Mills, G. Minter, Hugh Jones, A. Dudgeon, Archie Allan, D. Reekie, J. Ashton, P. Logan

Front Row
L.T. Duncan, J. Simpson, A. McKinnon, K. Brown, Bob Fortune, A. Amos, W. Cowan, Bob Galloway, J. Turnbull, J. Dougal, R. Patterson, E. Harris, Baty ?, A. Cadzow.



A County Physio Remembers: Helen Price

Mrs Helen Price, born in 1915, wrote the following about her experiences as a physiotherapist in wartime East Lothian. She wrote:

"As a child…I have a few early memories of East Lothian. An aunt's parents-in-law managed the Tweedale Arms in Gifford and we had occasional holidays there, staying in different houses overlooking the 'Green'. Come the war [day trips to the county] all stopped: petrol was rationed for essential purposes only, and East Lothian became a 'restricted area'. Such was the secrecy that few knew what that really meant. I know now that invasion…had usually come by sea and [was considered possible] in that area.

When working in the Borders as a newly qualified orthopaedic physiotherapist, [I was employed as] the After-care Sister for school clinics. [We served] out-patients of the Princess Margaret Rose Hospital for Crippled children, as was the terminology of that pioneer time. In 1943, in the autumn, I applied for a vacancy advertised for the East Lothian (West) clinics, and so started work in East Lothian. I worked all over, in Gullane, Aberlady, Haddington, Dirleton, Tranent, Ormiston, Prestonpans - at all the school clinics on the west side of the county. Another physiotherapist covered the east.

The 'county car', a Morris Minor, one of the fleet originally donated to the Princess Margaret Rose Hospital by Lord Nuffield in the thirties, was housed, for my convenience, as near Edinburgh as possible as I was living back at home [at that time] with my parents. My routine then was to catch the bus from London Road, getting off at Cockenzie, where I picked up the car at a close-by garage.

The nearby Prestonpan's school clinic was my main base and I shared the room used by the District Nurses. With rationing in force, the nurse controlled the supply of orange juice and kept an eye on childrens' diets. School milk was issued and supervised by the teachers. One occasionally benefitted by being able to take home the odd left-over half pint, which would otherwise have been wasted.

'Restricted area' status, in my experience, meant that en route to East Lothian, at the county boundary, the bus would stop and police would board to inspect everyone's identity card. It was understood that there were camps and billets around, airmen at Drem and even commandos practicing beach landings. The trains were busy with servicemen travelling into Edinburgh but such was the secrecy, 'Talking costs lives', that we never quite knew and did not ask. Certainly, concrete tank traps were built along some beaches and some of them are still there!

Sometimes one saw a Serviceman with a towel under his arm: it was assumed that he was living under canvas and was on his way to a local home for the hospitable hot bath.

One afternoon, in the Spring of 1944, on a sunny day and with some time to spare after my visit to the school clinic in Gullane, I decided to take a little trip down to the beach to revisit our picnic haunts. After a few minutes, as I was standing gazing over the dunes, I realised that there were rows of heads attached to bodies lying in the sand and [armed] with what looked like fixed bayonets pointed in my direction. I expected a peremptory challenge but none came. I got back in the car and beat a very hasty retreat. This was beach-landing practice!"