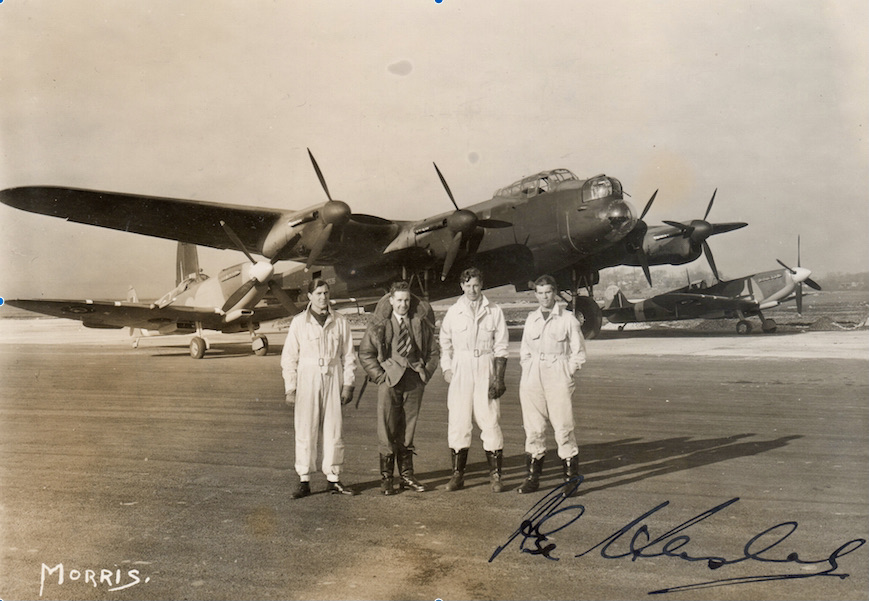 This photograph was taken on the occasion of the test flight of the first Lancaster B1 (HK535) produced at Vickers Armstrong Aircraft Factory, Castle Bromwich. The flight was piloted by Alex Henshaw, Chief test pilot at Castle Bromwich for Vickers Armstrong.

Left to right: Rosser RAF, Alex Henshaw, Ulstadt (Norway) and Vaclav Jicha. HK535 only lasted for eight missions and blew up east of Lille with the loss of the whole crew in early 1944. Photograph courtesy of Stephen P. Taylor.
Vaclav (Venda) Jicha, DFC AFC, Czech Pilot
Vaclav Jicha was born in Czechoslovakia, in Dnesice, on 10th February 1914. Interested in flying from an early age, he gained his pilot's licence in 1933. He soon became a well-known figure on the club flying scene but was conscripted into the army in 1935. His flying experience was recognised, and he was selected for pilot training, gaining his wings on 31st March 1937. Jicha quickly established a reputation as a skilful pilot and, having taken the decision to remain in the Czech Air Force, he was later to become a member of the Air Force's aerobatic team.
In October 1938, the Sudetenland, Czechoslovakia's fortified border area, was occupied by German forces as a consequence of the Munich Agreement. When, in March 1939, the whole of Czechoslovakia fell to Hitler, Jicha left the country and escaped first to Poland then to Cherbourg via ship from Gdynia. A short spell in the French Foreign Legion ended when Jicha was transferred to the French Air Force. During an intensive period of action, Jicha shot down an Me109 on the 20th May and a Do17 on the 21st. He shared the destruction of a Do17 on the 24th and destroyed a Hs 126 on the 5th June.
Overwhelmed by swiftly advancing German forces, Jicha made his way to Port Vedres on the Spanish border and sailed to Oran on the 24th. By the 12th July he had successfully reached Liverpool. He joined the RAF and was posted to 310 (Czech) Squadron at Duxford by the 6th August. After spells in a variety of RAF squadrons including 238, 1, 17 and 313 squadrons, Jicha's unusual skills as a pilot were recognised and he was transferred to 45 MU at Castle Bromwich in 1943 where he became a test pilot on new production aircraft. By May 1944, he had flown 822 hours on test flights and had survived fifteen forced landings (engine failures were very common) including nine where he landed the aircraft intact with undercarriages down.
[I am indebted to the Battle of Britain Memorial Trust for much of the factual details noted above (with the exception of the photograph) and would state their copyright to the material - see
www.bbm.org.uk/airmen/Jicha.htm
On the 1st February 1945 Jicha was in Kinloss and, wanting to return to Castle Bromwich, he hitched a lift on Anson NK945. FLt Ronald Cameron Ferguson, the pilot, became disorientated in a heavy snowstorm, misjudged the height and flew into Turf Law in the Lammermuirs. Jicha, Ferguson and F/O Arthur S. Davidson were killed. The Anson appears to have struck the slopes obliquely and skidded along the hillside until it toppled nose-first into a small ravine. A survey of the site was carried out by an Air Crash Archaeology and Investigation Society led by Kenny Walker and some pieces of debris were found.
For some time, it was believed that Jicha had survived the crash but had died from exposure while crawling across the heather to seek help, but no hard evidence has come to light to confirm or deny this story. He lies buried in St Mary's RC graveyard, Haddington.
Prior to the war, when he was twenty-four, Jicha had flown in the Aero Club of Prague and there he had met Juliette (Julinka?) Liska, aged eighteen. They appear to have formed quite a romantic attachment to each other, partly because they shared a common passion: flying. Juliette was a qualified pilot too and Vaclav became her fiancé.
Juliette Liska
Daughter of a First World War submarine commander, Juliette's own wartime experiences are well worth recording. I interviewed her on the last occasion when she came to visit Vaclav's grave, a journey she had made several times. Unfortunately, she wouldn't allow us to make any audio or visual recording of the event, so I have to rely on notes. Her father was in brewing and his job took himself and the family to Belgium where, in 1940, the war trapped Juliette in Brussels where she was a student. She took the risk to fight back and joined the Comet escape line aiding escaping airmen return to the UK.
She bravely carried out this dangerous work until she was betrayed and arrested on the 5th February 1943 and taken to Sangerhausen concentration camp, a sub-camp of Buchenwald. She was then sent to a mobile labour group given the task of repairing bomb damage to railway lines. She and her work detail were moved all over Germany by train, moving to wherever air raid damage needed repair. During this period, she survived, quite miraculously, no less than fifty-seven air-raids. In one she remembered being in a carriage blown on its side by the blast of a bomb and being straddled by the corpse of a fellow worker.
When this work ended, she was sent to a factory where she again resisted and, like many of her co-workers, did all she could to sabotage the work. Again, she had to endure air raids. However, she was one of the lucky ones who survived and was eventually released by the Americans. She ended the war working with the Americans on roadblocks trying to identify German war criminals. Clearly, she was an exceptional lady who was also exceptionally lucky.
After the war ended, Juliette visited Vaclav's parents and only then discovered that he had died. She later married but, in her old age and after her husband had died, she began to visit Vaclav's grave in Haddington. Hearing of this Jack Tully Jackson and Bill Nicholson, Area Manager Scotland of the Battle of Britain Historical Society, arranged for a Spitfire to overfly Juliette and Vaclav's grave on the 7th September 2007 when she was eighty-five. She herself died not long afterwards.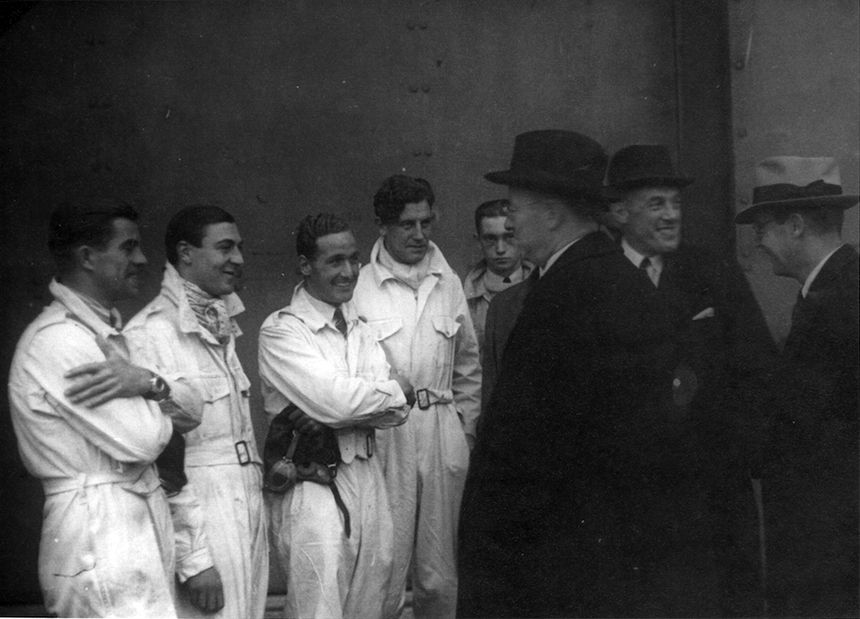 A VIP visit, probably in early or late 1943 with Jicha on the left, Rosser, Alex Henshaw and an unknown airman.
The others may be Americans and it's possible the tallest in the middle is US Ambassador Joseph Kennedy, father of President John Kennedy.
Photograph courtesy of Stephen P. Taylor.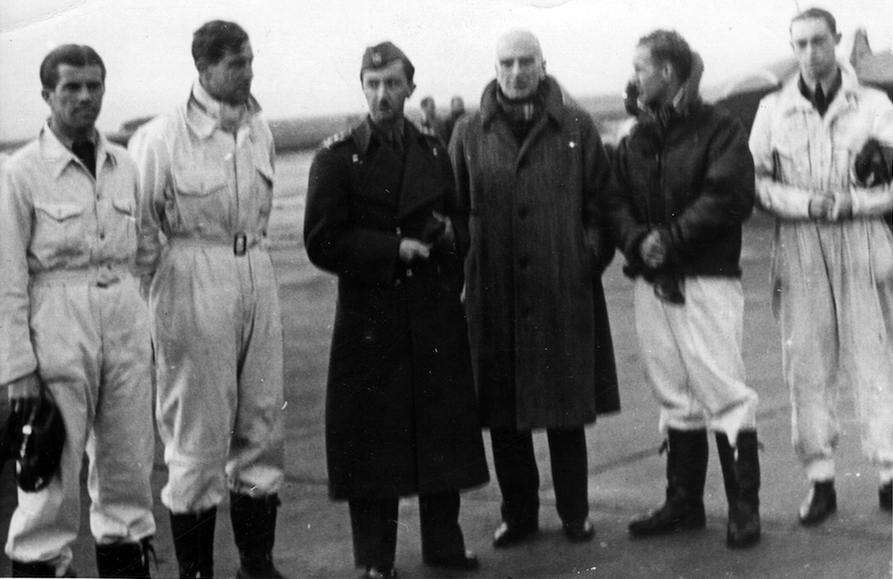 Jicha on the left, Ulstadt, the Regent of Iraq, Bonner Dixon (Vickers Armstrong Director at Castle Bromwich), Alex Henshaw and possibly Brew (a test pilot later killed in a Spitfire crash).

[I am very grateful to Stephen P. Taylor for the above three photos and their identifications]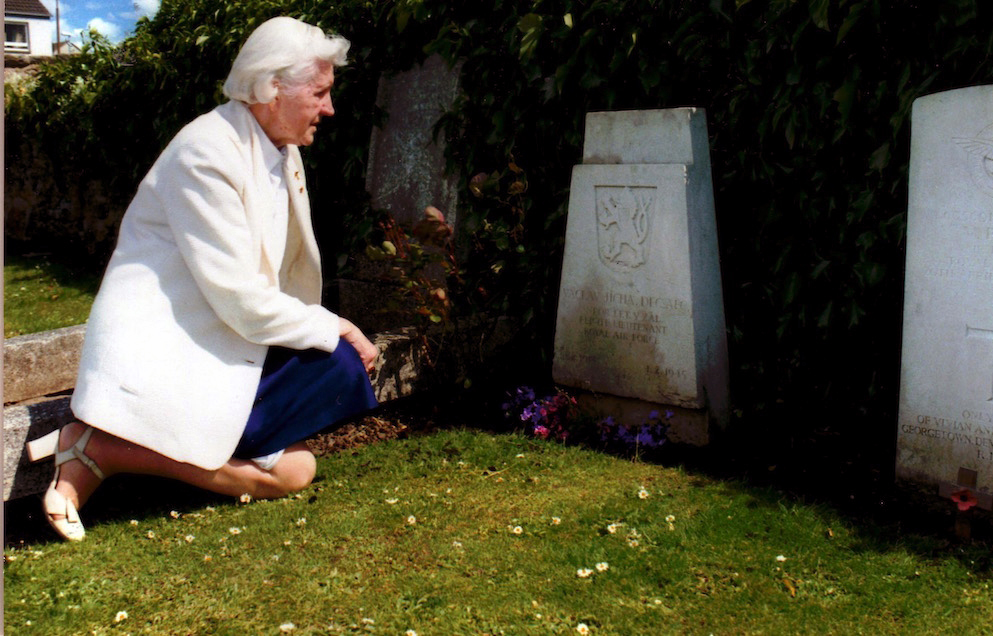 Above: Juliette Liska by Vaclav Jicha's grave in St Mary's RC graveyard, Haddington, in 1999.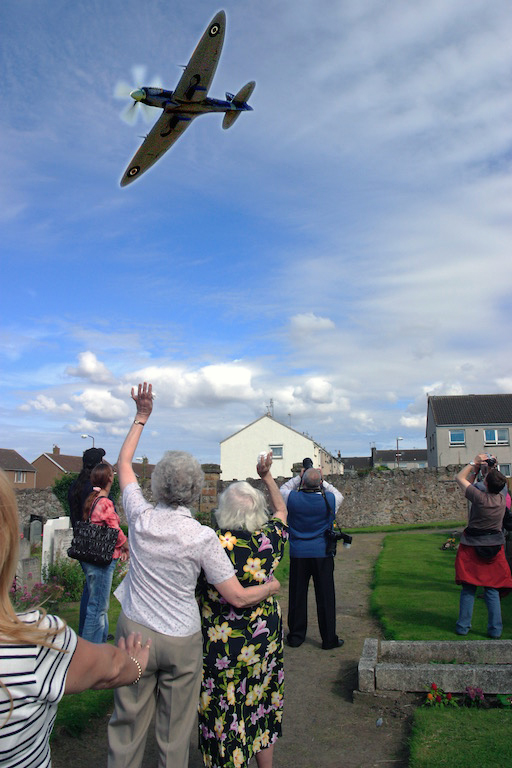 Juliette (in floral dress) watching the Spitfire tribute overfly Vaclav's grave, 7th September 2007.