Jack Tully Jackson (on the left)

Responsible, along with researchers too numerous to mention, for unearthing the initial core of evidence upon which this site is based.

Jack was born in Dublin and spent his youth in County Cavan. He moved to Northern Ireland and became a member of a local RAF Cadet Force in Portrush. Having a taste for the military and, despite being a neutral, like so many Southern Irishmen Jack joined up and underwent initial training before becoming a member of 2830 Squadron, RAF Regiment. In line with the then current duties of the RAF Regiment in guarding Radar stations and airfields, he was posted first to guard a Radar station on the south coast of England and later to Macmerry in East Lothian.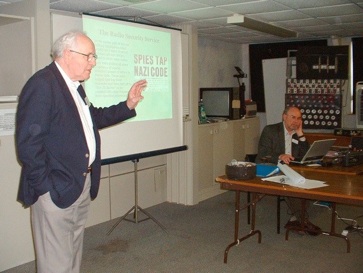 Here, though little did he know it at the time, he and his Squadron were playing a role in Operation Fortitude North. When the war ended, he and his Squadron were posted to Arctic Norway to occupy former Luftwaffe airfields and search for Germans who had committed atrocities on the local people. While there he saw the upturned hull of the Tirpitz, finally sunk by the RAF and three Tallboys. Finally, he was sent to northern Germany as part of the Occupation Forces, again to German airfields.

After war service Jack returned to East Lothian to marry and live in Haddington. He married Elizabeth Young; whom Jack had met as she worked at the counter in Bill Amos's radio shop.

Sadly, Jack died in 2017. He had been an active and now much missed Haddingtonian who did much to uncover the history of wartime East Lothian.

David Haire

Responsible for all aspects of the creation of this website and for continuing additional research.

David spent his youth in Derry/Londonderry, a port city famous for hosting the ships of many nations that guarded the Atlantic convoys. His home sat yards from HMS Sea Eagle, a unique military establishment in the UK where the RAF and the Navy shared facilities to train members of both in the arts and crafts of hunting submarines. He developed an interest in military history which he furthered at university.

David then undertook research under the guidance of one of the best and most balanced of Ireland's post-war generation of historians, Professor Theodore Moody. David's research specialism was 'The British Army in Ireland, 1868-92'. (M.Litt., 1973).

David spent his working life in Scotland and is now retired.